Today s Top 3 Oil and Gas Stocks
Post on: 31 Март, 2015 No Comment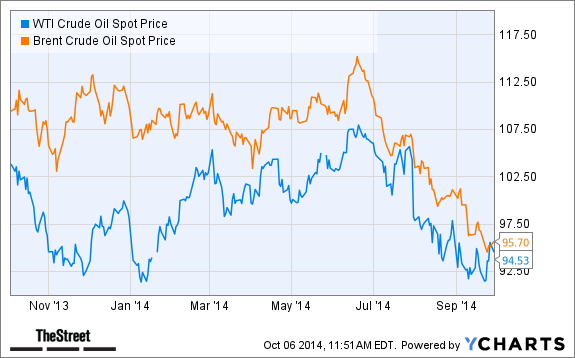 Oil prices were on the move today, as the U.S. reported better-than-expected fourth-quarter GDP for 2012 of 0.4% growth. That's up from the previously reported 0.1% growth, which is up from the initial estimate of a 0.1% decline. At 5:00 pm EDT on Tuesday, Brent crude was up 0.31%, to $110.02, and WTI crude was up 0.56%, to $97.14. U.S. natural gas was down 1.23%, to $4.02.
Today's top three oil and gas stocks
Among companies with market caps greater than $500 million, today's three oil and gas stock leaders were all MLPs. There are two forces pushing up MLPs this week.
First, over the past five days, oil, gas, and NGL prices are all up. WTI crude is up 3%, Brent crude is up 3.3%, natural gas is barely up, but is above $4 per mmbtu, and propane is up 3.8%.
Second, this week, Neuberger Berman priced and IPO'd a new $1 billion closed-end fund focused on MLPs, the aptly named Neuberger Berman MLP Income Fund (NYSEMKT: NML). That is a big one-time influx of cash into the MLP space. Per its mandate, the fund has to be 80% invested in MLPs, with the remaining 20% allowed to be invested in other income-producing securities. If investors are considering investing in the fund versus investing in MLPs outright, I would suggest they pass on the fund. Like the Alerian MLP ETF. the fund is organized as a C-Corp which means that the fund has to pay corporate taxes on any income to the fund before paying out income to shareholders. This negates one of the best advantages of MLPs, which is their tax-advantaged status .
With all that said, among companies with market caps greater than $500 million, today's three oil and gas stock leader was Rock Rose Midstream LP ( NYSE: RRMS ). up 4.62%, to $39.65. Rock Rose Midstream owns transportation and storage assets in the Niobrara and Bakken shale plays, storage assets in Cushing Oklahoma, and a stake in a pipeline from the Niobrara to Cushing. The partnership, which paid out $1.55 in distributions in 2012 for a 3.9% trailing yield, is targeting 10%-15% long-term distribution growth stemming from new pipelines to be completed in 2013 and 2014, as well as more dropdowns from its parent SemGroup ( NYSE: SEMG ) .
Second, among oil and gas stocks today was Alon USA Partners LP ( NYSE: ALDW ). up 4.60%, to $26.62. The partnership is a variable-rate MLP, which owns the Big Spring refinery in western Texas, as well as a distribution network including 650 retail stores. The refinery is currently operating below its maximum capacity of 70,000 barrels per day, as the refinery is undergoing scheduled maintenance. The Big Springs refinery is in prime position to benefit from WTI oil prices because of its location in Texas. The refinery buys its oil cheap, and sells its refined products at the much higher prices they command nationally and internationally. This is reflected in the partnership's high crack spread of $27.43 in 2012. As numerous companies work to lower the spread between WTI and Brent crude, this crack spread won't last.
Third among oil and gas stocks today was NGL Energy Partners, LP ( NYSE: NGL ). up 4.51%, to $26.90. The partnership operates a propane distribution network throughout the United States and increased its distribution in January. giving the partnership a yield of 7.3%.
Foolish bottom line
It's easy to forget the necessity of midstream operators that seamlessly transport oil and gas throughout the United States. Kinder Morgan is one of these operators, and one that investors should commit to memory due to its sheer size – it's the fourth largest energy company in the U.S. – not to mention its enormous potential for profits. In The Motley Fool's premium research report on Kinder Morgan, we break down the company's growing opportunity – as well as the risks to watch out for – in order to uncover whether it's a buy or a sell. To determine whether this dividend giant is right for your portfolio, simply click here now to claim your copy of this invaluable investor's resource.
A previous version of the article misstated Alon's distribution yield. The Motley Fool regrets the error.
Dan Dzombak can be found on Twitter @DanDzombak or on his Facebook page, DanDzombak. He has no position in any stocks mentioned. The Motley Fool has no position in any of the stocks mentioned. Try any of our Foolish newsletter services free for 30 days. We Fools may not all hold the same opinions, but we all believe that considering a diverse range of insights makes us better investors. The Motley Fool has a disclosure policy .