Portfolio Management Software Compare the Various Portfolio Management Software
Post on: 16 Март, 2015 No Comment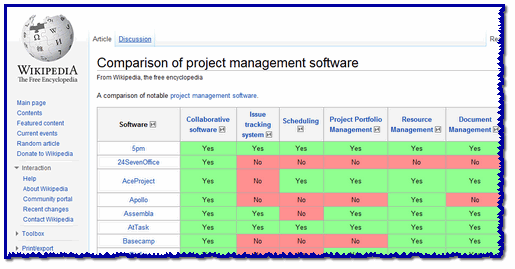 Advent Solutions Advent Office is an integrated suite of client-centric software solutions that automate a wide range of investment management functions. From client and portfolio management to trading and partnership accounting.
AIQ Systems Stocks, indices, mutual fnds charting, advanced report filtering, portfolio management and fundamental searches.
Advisormart.com Online portfolio management for investment advisors, brokers, and financial planners.
Alternative Software Development Provides software for Hedge Fund portfolio creation through downside risk management.
Altus Portfolio Management Multi-currency Portfolio Management and Trade Order System for Investment Companies, Fund Managers and Financial Planners.
AnalytX, Inc. Their flagship product, VentureComplete, portfolio management and accounting capabilities for private equity funds. Their Muni Bond Planner provides comprehensive capital financing capabilities for municipal utilities.
APT Portfolio Analytics A comprehensive set of ex-ante and ex-post measures, model-based and model-free, textbook implementations and proprietary, value-added
analytics.
BARRA An in-depth liquidity model that helps boost performance by accurately predicting equity trading costs.
Beiley Software Fund Manager Portfolio management application for the individual investor. Track and analyze stocks, mutual funds, and other investments with easy to sue graphs and reports.
BIRR Portfolio Analysis, Inc. — Portfolio management software and consulting services for professional and institutional investors.
Captool portfolio management software is an investment record keeping, performance measurement and portfolio management reporting tool designed for professional money managers, for sophisticated individual investors, and for others entrusted with managing investment assets.
Centerpiece is a powerful Windows® based portfolio management system that combines accounting, client reporting, and performance tracking in an easy-to-use networked application. Comprehensive, yet affordable, Centerpiece offers you a cost-effective way to keep on top of ever-changing client holdings.
DataCow Technologies Stock and mutual fund portfolio manager provides complete market information. technical indicators and forecast of indexes, st o cks and mutual funds.
DRIP Wizard Software Software for Win 95, 98 or NT, to track DRIP Investments. Tracks value, profits, tax consequiesces, and much more.
DST With 14 offices in all five continents, DST International provides a unique and comprehensive range of multi-asset investment management and workflow management solutions to over 550 clients in 35 countries.
DTLink Software Personal Stock Monitor software for individual investors, helps track and manage your portfolio by providing automatic quote downloads over the Internet, flexible alerts, links to news and charts, and more.
eWebPortfolio.com Web-based portfolio management and accounting system for professional investment advisors. Global connectivity, comprehensive reporting, modeling tools, client billing, unlimited users, and no license fees.
Financial Computer Support, Inc. dbCAMS+ manages prospects, clients, assets, insurance, todo and billing. dbCAMS+ obtains client data direct from funds, Broker Dealers, and others for financial reports and other analysis.
First Rate First Rate specializes in Performance Measurement Calculation and Presentation, Attribution Analysis and Portfolio Statement Development.
GainsKeeper.com An online portfolio tracking service with an emphasis on tracking investment cost basis for tax purposes.
Global Investment Manager 2000 The world's only scalable solution for multi-currency portfolio accounting, performance measurement and trading. In production at banks, brokerage firms, separately managed account and wealth management advisors and securities lending environments.
G -Sphere Gravity Investments' 3-D asset allocation software provides investors with a powerful portfolio optimization tool, unequalled insight and analysis and a superior system for maximizing diversification.
Invessoft Home Individual investment software for portfolio management and tax preparation. Prices updated via Internet.
InvesTraK Investment-tracking tool for managing an individual portfolio of stocks, bonds, and mutual funds. Online support, reviews, 30 day trial download. Windows 95/98/NT.
Isis Financial Systems is a leading provider of portfolio-management and accounting software and services. Our solution — "IMS" provides mission-critical services to asset managers, hedge funds, mutual funds, insurance companies and pension plans. A robust multi-currency integrated application (front, middle, back office) IMS is designed to account for most any negotiable instrument (equities, fixed income, structured products), mutual funds (NAV), hedge funds and funds of funds. IMS' accounting engine projects cash flows enabling "what if" and side by side scenario analyses, complete history of activity, audit controls and flexible query/reporting. Portfolio management features include modeling, performance measurement (GIPS, TWRR, IRR, and analytics), compliance and re-balancing scenario tools. IMS services $100B+ AUM.
IT (link under revision-please return on latter date or visit www.ortec.com for this product-thank you) tracks indexes minimizing management/transaction costs, based on state of the art algorithms using optimized sampling. This is the ideal tool for passive management of portfolios of pension plans.
Kamakura Corporation Provides risk and asset liability management software to sophisticated institutions worldwide.
My Savings Bonds Windows based software package for maintaining savings bonds portfolios. Calculates the exact value of your savings bonds for up to six months at a time.
OWL Software Publisher of investment portfolio manager provides complete market information, technical indicators and forecast of indexes, stocks and mutual funds.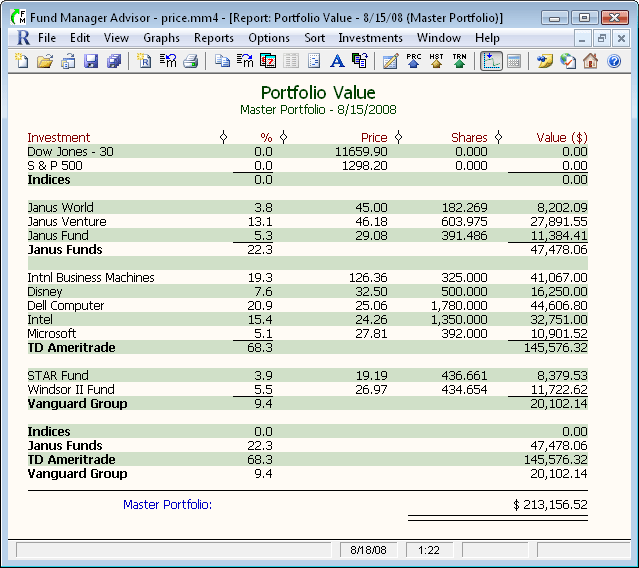 Phoenix Systems, Inc . MPACS is a totally interactive mutual fund portfolio/fund accounting system, able to process funds of every type. MPACS combines security maintenance and transaction history, general ledger and pricing functions into an integrated system.
Portfolio Accounting System offers integrated portfolio management and accounting tools that are considered the workhorses of the trade — offering security, reliability and virtually no down time.
Princeton Financial Systems a wholly owned subsidiary of State Street Corporation, is a leading provider of investment management and accounting systems and ASP services for global institutional investors. Its flagship PAM® investment management systems provide comprehensive STP-ready front-to-back office functionality that can be licensed for in-house use or accessed via the Internet. PAM systems are currently used worldwide by 335 leading insurance companies, mutual funds and unit trusts, investment managers, pension funds, and banks, which manage combined total assets near US$3 trillion. Princeton Financial has offices located in the United States; Windsor, England; Amsterdam, Brussels; Sydney; Singapore and Toronto. For more information, visit Princeton Financial's Website at www.pfs.com
Principia Partner s' Mission is to provide a unified package of sophisticated, turnkey software for front-to-back office pricing, valuation, processing, accounting and risk management for fixed income, F/X and equity indexed products.
Q2® for Portfolio Management . Q2's real-time, robust portfolio management system provides complete front-to back-office STP functionality that offers unprecedented control over the information needed to manage your business operations and respond to your customers' needs.
QUANTIX Software, Inc. investment portfolio software for tracking of stocks, bonds, and funds.
RAD Solutions LLC A real time portfolio management and accounting system.
Savings Bond Maximizer Software Management tool for US Savings Bonds that tracks price, yield, accrual dates, maturity dates and deferred tax obligation of all bonds issued since 1943. Covers Series E, Series EE, Series I, Series H, Series HH and Savings Notes.
Software for Investment Advisors Asset Allocation, Portfolio Management and Financial Planning software for investment professionals.
Spectra Portfolio is a feature rich portfolio and contact management system that helps financial advisors manage their clients, featuring, online portfolio analysis, prospecting tools, proposal and off-book position tracking, order entry integration and automatic loading of back-office data.
SS&C Technologies, Inc Total Reconciliation compares trades or positions from the client's portfolio management system with broker or custodian reports for reconciliation. Quickly identifies the discrepancies and tracks them through to resolution. Replaces tedious process of confirming consistency between two systems. Expected corrections remain on the file until the actual corrections are received and processed in later reconciliation. CAMRA 2000 is the engine that can seamlessly drive your entire investment process, from trade order management, securities processing, accounting and reporting. Total Return Supports reporting, investment management, trading, partnership reporting, financial accounting and administration. Integrated modules include multi-currency portfolio management, general ledger, performance, partnership accounting/tax reporting, trust reporting. Developed to support investment firms with sophisticated global investment, trading and management concerns and/or complex financial/tax and partnership allocation reporting requirements.
Techfi — Portfolio 2000 A complete portfolio management system for investment professionals with performance measurement and comprehensive reporting.
Ticoon Technology Offers financial service providers a custom, wealth-management software application for personal financial planning.
Visioneering Partner, Inc . X.eye's integrated relationship and wealth management functionality sets a new standard in investment software. This n-tier system allows you to move beyond contact management to true relationship management.
If you would like to add your software or another industry related software vendor to one of these categories please select the following link. ADD SOFTWARE