Africa's rising trend of foreign direct investment to continue says report
Post on: 24 Февраль, 2017 No Comment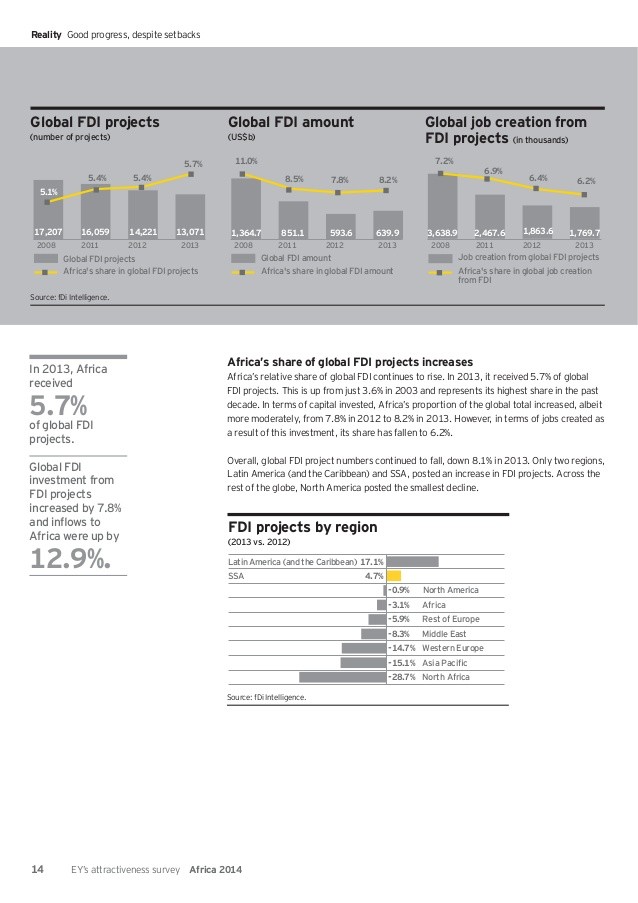 The number of foreign direct investment (FDI) projects in Africa grew 27% from 2010 to 2011 and the trend is set to continue, according to a new report from consultancy Ernst & Young (EY). 15 May 2014
The report on market attractiveness in Africa (80-page / 2.4MB PDF) said that despite this growth "there remain lingering negative perceptions of the continent, but only among those who are not yet doing business in Africa.
EY said: "Africa is increasingly being taken more seriously as an investment and business destination, but in many sectors, a window of opportunity does still remain open for establishing an 'early mover' advantage."
However, EY said competition is intensifying and the window of opportunity is closing. "For companies and investors looking for long-term sustainable growth, we are in no doubt that the time to act on the Africa opportunity is now. Now is the time to invest in understanding markets, identifying partners, developing opportunities, configuring industries, building brands and establishing local credibility."
The report echoed the advice of a guide to local content in Africa (6-page / 1MB PDF), published recently by an expert panel brought together by Pinsent Masons, the law firm behind Out-Law.com, and the strategy and communications consultancy Africa Practice. The panel said firms ready to invest in local content in Africa would be able to secure industry-specific incentives and exemptions if they are "prepared to be the first movers".
EY's report said Nigeria has been the largest recipient of FDI in Africa over the last decade, with announcements totalling almost $116 billion in 2003-11, representing about 9% of gross domestic product (GDP). Eighty percent of that FDI has been in the oil and gas sector and Nigeria's "substantial oil reserves will continue to attract funds over the medium term".
FDI inflows to Nigeria are forecast to average about $23 billion annually over the next five years and create some 95,000 jobs, according to the report.
Greenfield FDI projects in Nigeria have grown at a compound rate of close to 20% since 2007, the report said. However, while more than 50% of the FDI capital invested since 2007 has been into capital intensive resource sectors (primarily oil), the report said there had been "particularly strong growth" in investment into telecommunications, with the sector attracting 23.9% of FDI projects between 2007 and 2013.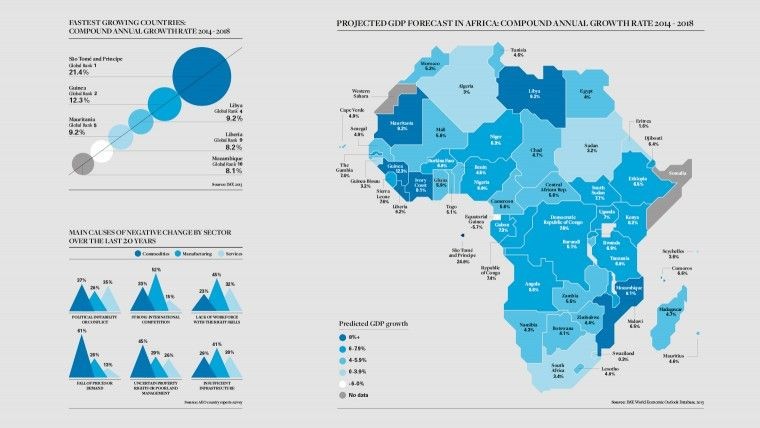 West Africa regional leader at EY Henry Egbiki said. "The growth in FDI projects clearly reinforces the Africa growth story. given the continued growth rates and the recent GDP rebasing, coupled with a portfolio of active infrastructure projects, Nigeria's billing as a powerhouse in a dynamic, high growth region is certainly justified."
However, the report said EY surveys and conversations with clients indicated that "political risk factors remain the single biggest impediment to investing in African countries", with perceptions of political instability and corruption as "dominant themes".
The report said: "While many countries are making good progress, we need to be pushing faster and further. From an investment attractiveness perspective, the importance of broader-based, visible and proactive measures to institutionalise democracy, implement robust governance, improve financial management and tackle corruption head on cannot be overstated."
The UN's Economic Commission for Africa (ECA) said last month that a more diverse economy and a strengthening consumer base, such as seen in Nigeria, is "expected to attract more FDI.