What is the ISM Manufacturing Survey
Post on: 28 Декабрь, 2016 No Comment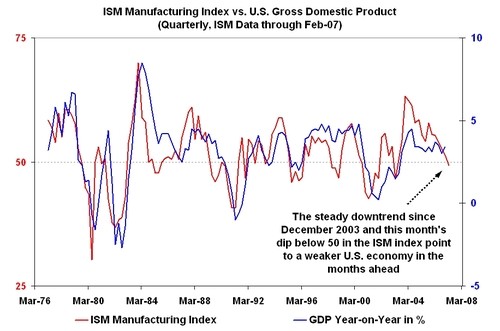 Posted 2 years ago | 5:45 AM | 1 November 2012 4 Comments
Updated from its original posting: 02 Jan 2007
The ISM Manufacturing Survey is based on comments from purchasing managers in the manufacturing sector.
It's the first piece of news on the economy every month and provides the earliest clues of how the economy has fared during the previous four weeks.
Why is it considered important?
People in charge of buying stuff for their company are called purchasing managers. Manufacturing companies need supplies to make products. A sample of items they might order includes cables, packing boxes, and computers. If there's an increase in demand for manufactured products (like your son begging you for an Xbox 360), purchasing managers respond by increasing orders for production material and other supplies. If manufacturing sales slow, these corporate buyers will cut back on industrial orders.
Because of their position, you can essentially get solid measure of manufacturing activity by following what purchasing managers are doing. This is important because manufactured goods make up almost half of the total economy.
How is it calculated?
The ISM mails out questionnaires every month to about 400 member companies around the country, representing 20 different industries. Corporate purchasing managers are asked to assess if activity is rising, falling, or unchanged in the following fields:
New orders: New orders by purchasing agents
Production: Manufacturing Output

Employment: Hiring in the company
Supplier deliveries: Speed of delivery from suppliers
Inventories: The rate of liquidating manufacturers' inventories
Customers' inventories: Agents guess the inventory levels of their customers
Commodity prices: Prices paid by manufacturers for supplies
Backlog of orders: Orders not filled
New export orders: Rate of new orders from other countries
Imports: Material that agents purchased from other countries
The Purchasing Managers Index (PMI) itself is a compilation based on the answers to the first five queries in the above list. They are weighted as follows to compute the index: order (30%), manufacturing production (25%), employment (20%), supplier deliveries (15%), and inventories (10%). The bottom five provide additional coverage to how manufacturing is performing.
How do you read it?
Here is how you interpret results:
Above 50: Both manufacturing and the economy are expanding.
Below 50 but above 43: Manufacturing activity is contracting, yet the overall economy may still be growing.
Below 43 on a sustained basis: Both manufacturing and the economy are likely to be in recession. Expect the Fed to lower rates to try and stimulate economic growth.
How does it affect the forex market?
A PMI reading below 50 is dollar bearish.